Min / Max Group Size
10 - 20 people
Min Group Size by
Jan 09, 2021
Land Package Cost

3403 USD
Accommodations
Included in Price
Flights
Book JIZO Flights
Group Highlights
Celia Sanchez was the heroine of the revolution. She was a girl from the Sierra Maestra and knew the area well and was acquainted with the mountain people because she assisted her father, in his medical practice, serving the poor people who lived up in those high mountains. Not only did the locals know Celia well, but they also loved her for her kind work helping the people as she worked with her father, who had his practice in the small town of Pilon at the Western end of these famous mountains.
A great ride, through some of the most beautiful and historic areas of Cuba. That part of Cuba where revolutions are born. See Santiago and ride the coast road right where the Sierra Maestra falls to the sea. The breathtaking vistas will stay with you forever. Walk to La Plata, Fidel's hideaway camp, high up in the mountains and see the landing spot of the Granma, you will be amazed that those young men made ashore to carry on and rid Cuba of Batista.
In the city of Las Tunas, we will be hosted by a youth cycling team to whom we send bicycles and equipment that have been brought to Cuba from Canada, the UK, and the USA. Our involvement with this club has produced a good number of both regional and national champions. These achievements would never be possible without your help. Tunas is an out of the way place and not regarded as a tourist destination and your support for this group keeps cycling in their high school gym program alive and well.
A visit to Eastern Cuba without a certain level of historical information is rather sad, you are passing so much while on this tour, Comprehension of the area is paramount and I strongly suggest that you read this book: Nancy Stout, One Day in December: Celia Sánchez and the Cuban Revolution.
Group Members
1 participant from 1 country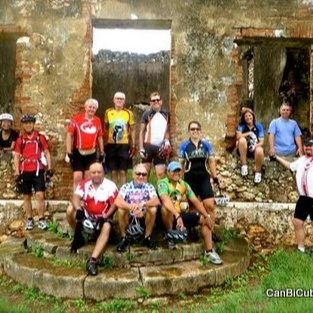 Peter Marshall
Havana, Cuba
Travel
Join now
19 Spots Left
Meeting Point
M

Meeting point

Holguín, Cuba 20.8795,-76.2595

Dec 31, 2020

Thursday

We need to meet you either in Havana or Holguin. If you are entering Cuba via Havana you may travel with our bus (no charge) and our crew to Holguin. This will get you to Holguin a day early and you will need to spend the night in a Casa Particular (B&B)
Travel Map
Route
Day 1
Holguin, CU
Jan 23, 2021
Day 2
Bayamo, CU
Jan 24, 2021
Day 4
Contramaestre, CU
Jan 26, 2021
Day 5
Contramaestre, CU
Jan 27, 2021
Day 7
Palma Soriano, CU
Jan 29, 2021
Day 8
Santiago de Cuba, CU
Jan 30, 2021
Day 10
Pilon, CU
Feb 01, 2021
Day 11
Niquero, CU
Feb 02, 2021
Day 12
Manzanillo, CU
Feb 03, 2021
Day 14
Las Tunas, CU
Feb 05, 2021
Day 15
Santa Lucia, CU
Feb 06, 2021